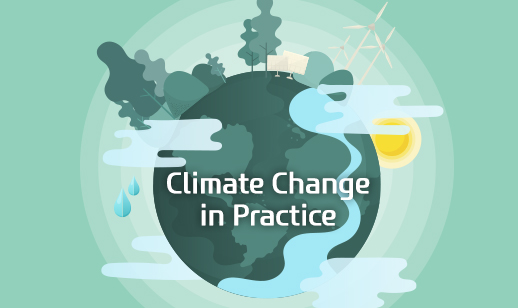 Open to PublicOngoingSelf-paced
Climate Change in Practice
| | |
| --- | --- |
| Application | 12-20-2019 ~ 12-31-2022 |
| Learning | 12-24-2019 ~ 12-31-2022(158 Weeks) |
| Course ID | 2021_80_CL005_1_0_ |
Take the course at your own pace

Downloadable Certificate
Earn a certificate upon the course completion

100% Free
About the Course
Nowadays, 'Climate Change' is certainly one of the most urgent and prominent global issues to be solved. This 4-week course seeks to provide learners to understand the terms, concepts and background knowledge of climate change, as well as the global efforts and international agendas that are taking place to address the issue. Through these activities, learners will deepen their knowledge and enhance their competencies to cope with the climate change, reaffirming their commitment as global citizens.
The course is composed of the following four sessions. Each session provides a lecture and additional learning materials followed by assignments. To effectively assist learners' understanding and learning progress, a set of quizzes will be offered. Run in a self-paced mood, the course is open throughout the year. Upon the successful completion of the course, a certificate is provided!

Instructor
Ms. Manana Ratiani
- Deputy Director of National Center for Teacher Professional Development
- Associate Professor of the School of Business, Technology and Education in Ilia State University
- Served as a Focal point on Education for Sustainable Development at National Curriculum and Assessment Centre as a Geography expert
Course Reviews
This was a veryinformative and engaging course I would highly recommend it to anyone.

The videos were well explained in simple English

Abdul Awal Chowdhury Masud

Best introduction to climate change that I have ever experience.

Its a recommendable intensive and informative short course which shades a lot of light on climate change.

Its a wonderful course. I strongly recommend it to everyone!

Mostafa Osama Abdellatif Elsharkawy

i recommend any one who want a quick intensive overview about climate change to take the course

climate change is all about patterns of the temperature,precipitation and different kinds of weather conditions

How can I receive my certificate? I have finished all the requirements

Very informative! Can't wait to share the learning and realizations about the module!