Asia-Pacific Centre of Education for International Understanding (APCEIU) invites all who are interested in Global Citizenship Education (GCED) and relevant projects to the Alumni Forum, which will be held on 3 November 2023 (Friday), 17:00-19:20 pm in KST (Seoul Time) via zoom.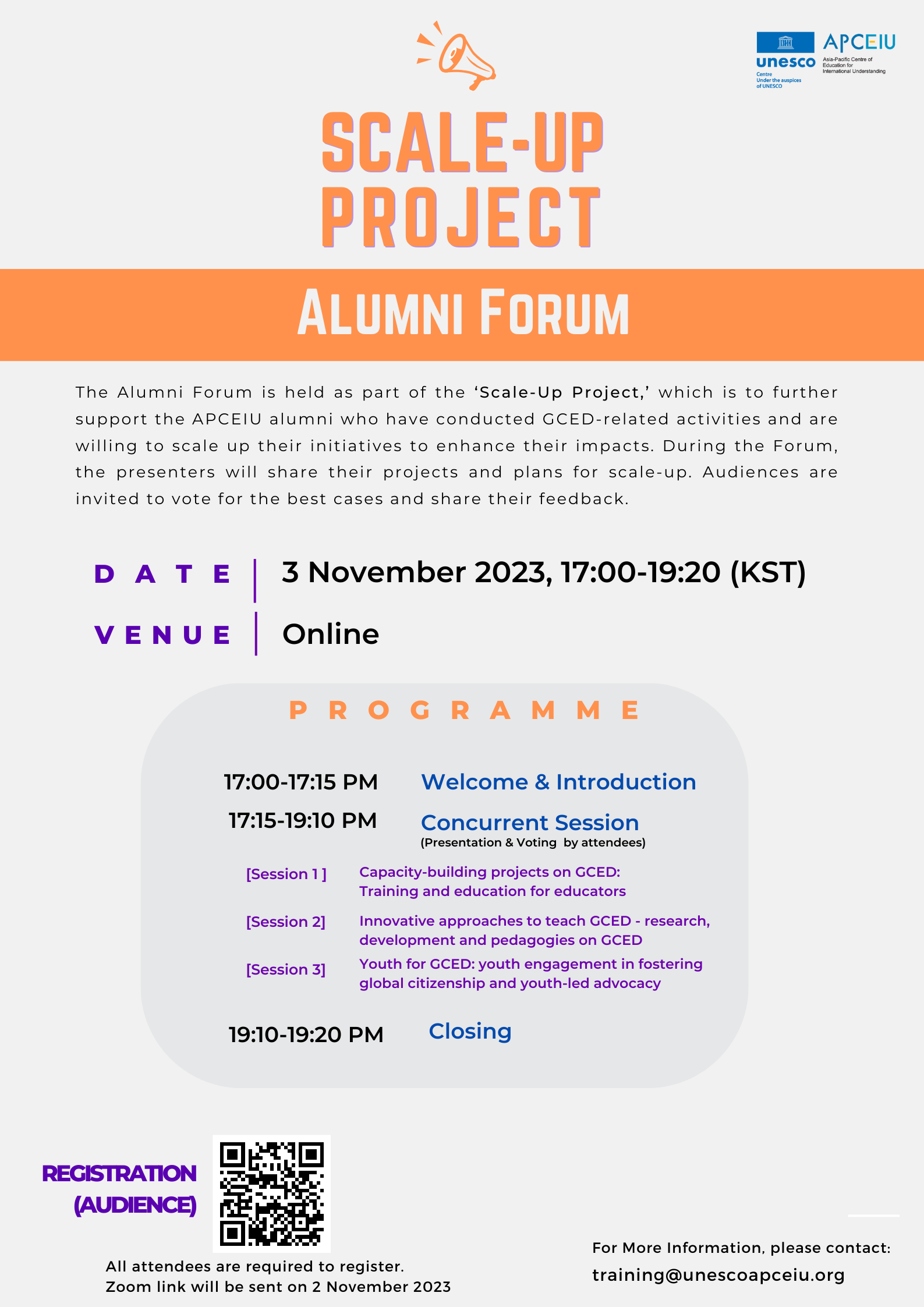 APCEIU's training programme alumni have actively carried out various GCED initiatives in their local communities, including cascade training programmes for fellow educators, development of teaching/learning materials on GCED, initiating advocacy/campaigns, teaching practices in and outside classrooms, youth engagement, and digital activities. Having observed the tremendous impacts of these activities by alumni locally and regionally, APCEIU initiated the 'Scale-Up Project' to further support the alumni who have proven impacts of the past GCED-related activities in their communities and concrete plans for the next steps to take to scale up their existing initiatives. The project plans to identify good projects that can be upscaled and provide seed funds for their further project development. Also, the project stories shall be shared with global audiences through various APCEIU platforms so that other GCED advocates can learn from the cases.
The Alumni Forum is organized as part of the Scale-Up Project. During the Alumni Forum, the presenters will share their initiatives and future plans for scale-up and receive feedback from experts and audiences. Audiences are invited to learn about the various GCED practices, share their feedback/comments, and vote for the best cases!

※ The forum link (Zoom) will be provided via email for those who register only.
For any inquiries, contact the Office of Education and Training (training@unescoapceiu.org)