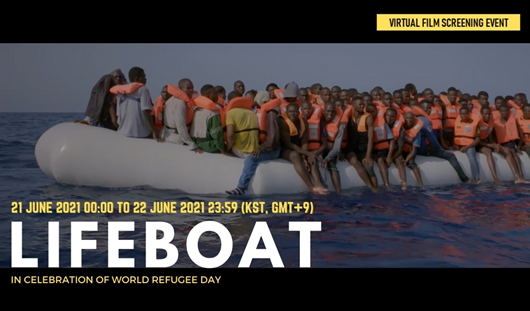 To celebrate World Refugee Day (20th June) and honor refugees from around the world, APCEIU is holding the 2nd Virtual Film Screening Event!

LIFEBOAT, an Oscar-nominated documentary film, depicts the dire situation of the asylum-seekers, who are risking their lives crossing the Mediterranean to desperately seek a new land of life. But at the same time, the film sheds light on the courageous global citizens who are fighting for the lives of the asylum-seekers on the ocean despite the threats and challenges they face every moment. In the event, an interview with the film director Mr. Skye Fitzgerald will be provided along with the film, to help audience understand the film better and lead them to reflect on their roles as global citizens to intervene and take actions to tackle the refugee crisis.
We welcome everyone interested in the issue of refugees to have an eye-opening learning experience with the documentary film!
Time:

25 June 2021 00:00 to 26 June 2021 23:59 (KST, GMT+9)

Methods of Participation:

You can access the page via the link and password provided below

at any time during the event period

to watch a movie and director interview.

Event Link:

http://simarama.com/apceiu

Password:

SIMA4APCEIU

(ALL UPPER CASE LETTERS)