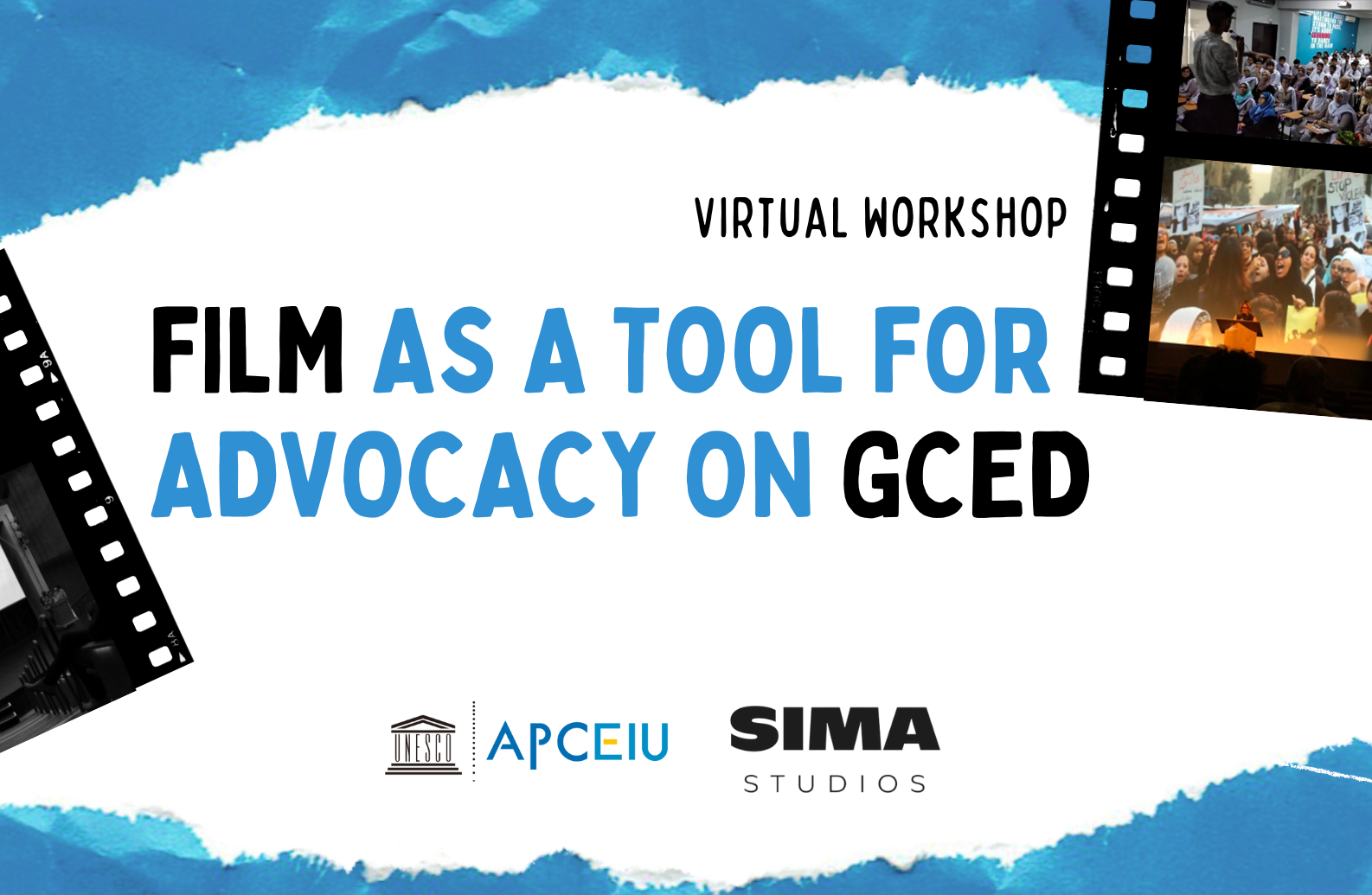 GCED by Themes2Instructor-led
Film as a Tool for Advocacy on GCED
| | |
| --- | --- |
| Application | 09-01-2021 ~ 10-08-2021 |
| Learning | 09-06-2021 ~ 10-08-2021(5 [[study_weeks]]) |
| Course ID | 2021_80_CL002_17_0_ |
Fixed Deadlines

Application & Selection Process

1:1 Interaction with the Instructor

Downloadable Certificate
Earn a certificate upon the completion

100% Free
About the Course
Throughout this course you will have the opportunity to gain practical skills and hands-on experience on how to use authentic visual storytelling to advance your own advocacy work.
We'll be taking a closer look at documentary films to explore the impact of visual storytelling to communicate ideas and inspire sustainable change.
And, we'll be guiding you through the whole process of creating a virtual impact campaign hosting a film screening to activate your audience into agents of change.
The primary learning objectives for this course are:
Objective 1: Introduce the field and relevance of impact media and storytelling for global citizenship.
Objective 2: Reflect on the concept of sustainability and your role as a creative changemaker to catalyze positive, long lasting, and systemic impact.
Objective 3: Guide and support you through the process of designing, implementing and hosting your own

a virtual screening impact campaign that use film as a springboard for advocating for global social issues while developing leadership and community organizing skills.
You will meet the objectives listed above through a combination of the following activities in this course:
Watch the recorded Masterclasses and LEARN about using impact storytelling and documentary film to amplify your voice and your impact in a unique and memorable way.
CURATE short docs films using SIMA judging criteria and select a film align to the cause you want to advocate for.
TAKE ACTION and create your own Virtual Screening Impact Campaign

to create awareness, spark critical thinking and activate change in your community.
REFLECT on your experience hosting a virtual screening event.
1) Curate/select your film based on what you learned from this course
2) Submit your Production Form
3) Submit your Screening Agreement Form
4) Host your Virtual Screening Event
5) Share your inputs and take part of the conversation
Instructor
Virginia Pittaro, Director of Global Partnerships at SIMA, organization created to advance global awareness and social transformation through the power of impact cinema.
Her career in International Development focuses on unleashing the potential of individuals, organizations and businesses to create positive change. For 15 years she has been supporting entrepreneurs, social leaders and changemakers advancing a purpose-driven economy and education. 
Virginia holds a B.A in International Affairs, and Master Degree in Public Policy and International Development.
SIMA is a non-profit impact media agency which celebrates, curates and distributes documentaries + creative media projects that advance positive social change and support content creators, activists, educators and changemakers worldwide.