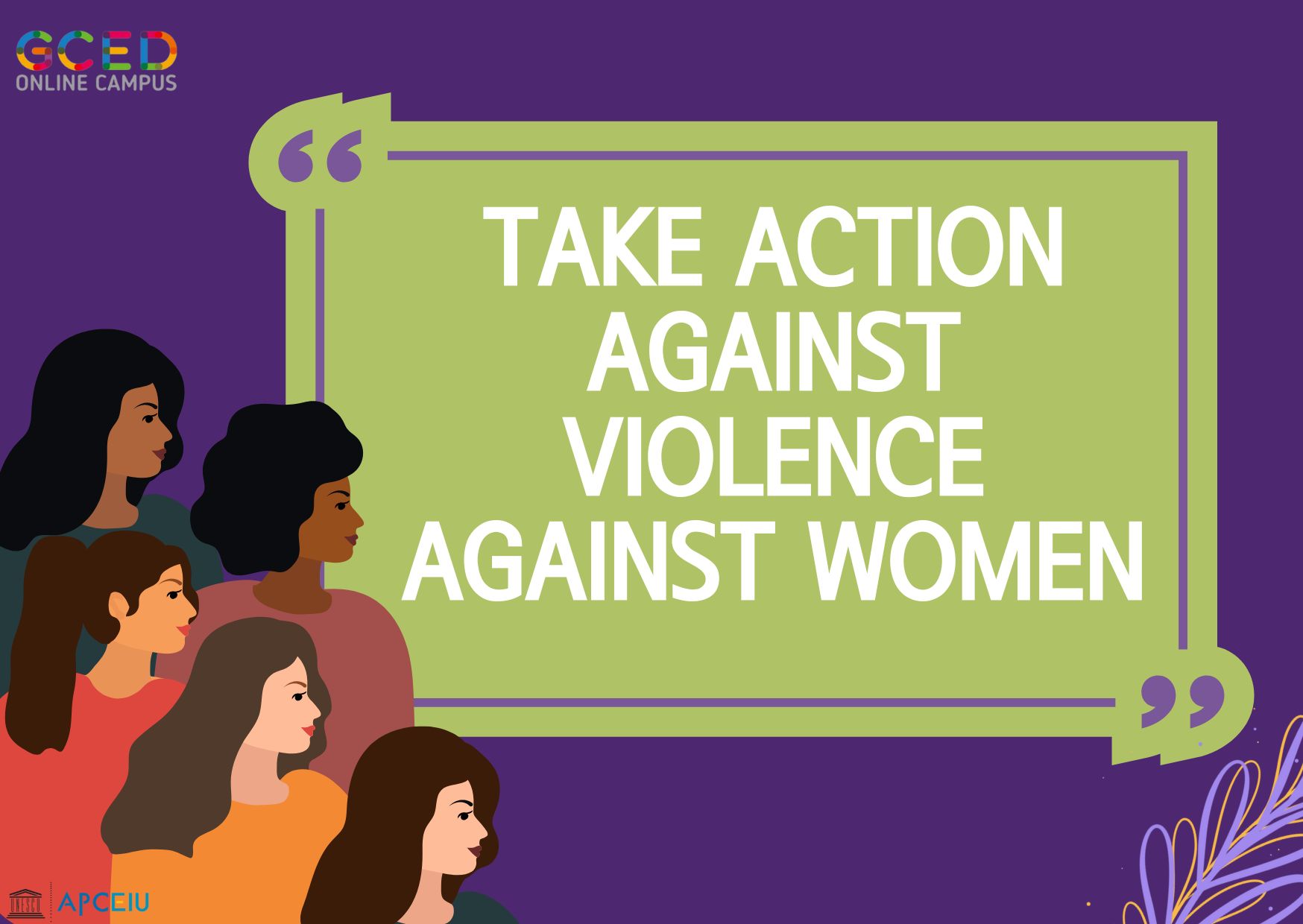 GCED by ThemesInstructor-led
Take action against violence against women
| | |
| --- | --- |
| Application | 10-06-2022 ~ 10-20-2022 |
| Learning | 10-28-2022 ~ 11-30-2022(5 Weeks) |
| Course ID | 2022_80_CL002_1_0_0 |
Fixed Deadlines

Application & Selection Process

1:1 Interaction with the Instructor

Downloadable Certificate
Earn a certificate upon the completion

100% Free
About the Course
Rape, domestic violence, and sexual harassment are ugly words but a reality to one in three women worldwide.
Violence against Women (VAW) is pervasive and pressing human rights issue in the world today. It is both an "abhorrent crime and a public health emergency, with far-reaching consequences for millions of women and girls in every corner of the globe."Furthermore, the COVID-19 pandemic has worsened the incidence of VAW.

Through the course, participants will gain a deeper understanding of VAW. The course unpackages how women's rights are human rights and provides knowledge on the role of UN Human Rights instruments that promote gender equality.
This course will give you the tools to create your campaign to promote gender equality and prevent VAW. Each participant is expected to plan an online or offline campaign either individually or in a group to promote gender equality and prevent VAW.
An *exciting component* of this course is that during Week 4, the participants will plan an online forum for Sat. November 26 to commemorate 16 days of Activism against Violence against Women. Please note that November 25 is the UN International Day for the Elimination of Violence Against Women.
We can all play a role in preventing gender-based violence and be a changemaker!
Six (6) modules will be over five (5) weeks. Each week starts every Monday when you will be given resources as preparation. The five live sessions will be every Tuesday except for the online forum (The online forum will be scheduled for Saturday, November 26). Every Module will start at 10 PM (KST, GMT+9).
Modules
| | | |
| --- | --- | --- |
| Module No | Session day | Title |
| 1 | Tue. November 1 | Gender Equality & Gender-Based Violence |
| 2 | Tue. November 8 | Advocacy Project Framework & Planning for the Online Forum |
| 3 | Tue. November 15 | FEMINISM & Violence against Women (VAW) |
| 4 | Tue. November 22 | Forms of VAW & IMPACT OF VAW ON SOCIETY |
| 5 | Sat. November 26 | Online Event |
| 6 | Tue. November 29 | Presentation of Campaigns by participants |
*NOTE: During the course, participation in live zoom sessions (as well as Online Forum on Sat. November 26) is mandatory for students. Please check the following timeline, and make sure you are available with the schedule of live sessions.
Instructor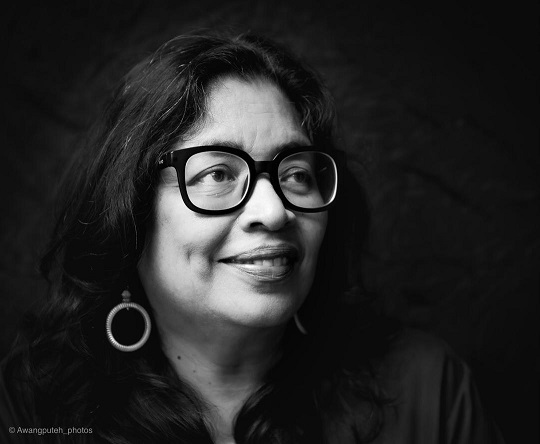 Ivy N Josiah is a Malaysian women's human rights advocate and a gender consultant cum trainer.  Ivy is the former President and Executive Director of Women's Aid Organisation (WAO- www.wao.org.my ), where over 20 years she developed WAO's shelter services and advocacy strategies for law and policy reform. WAO opened Malaysia's first shelter for survivors of domestic violence in 1982.
She has a strong background in women's human rights addressing multiple forms of discrimination against women and has conducted trainings in over 15 countries. She is currently writing and pod casting stories about the women's movement in Malaysia, she remains active in civil society. Ivy is also a member of Five Arts Centre.  
She loves to advocate, dance, cook and create. 
Course Reviews
The course is very useful, practical and resourceful. This course provoked me to lead campaign to take action violence again women in my community. I am grateful to our teacher Ms Ivy Josiah for her contribution and devotion to educate us with practical way. I would also like to thank GCED online campus team and classmates to make it happen.
-Rupendra Maharjan Nepal


I would like to thank APCEIU and GCED for the opportunity to be part of this online course; Take action against violence against women. It has been a great learning period for me. Overall, the course was well structured with practical and theoretical lessons. The live sessions were great with the exception of a few internet challenges. The course also provided a knowledge sharing platform to learn from other participants from different parts of the world. This has helped me to be better informed on issues of violence against women. The course materials that I acquired would serve as reference point to assist me in my duties as the Officer in-charge of Gender in Adansi North District Assembly.

JUNNOEL V. OJENAR, Philippines

This course has widen my perspective in as far as VAW is concern. Its impact to the society, its nature and its way on changing the world. I am glad how the GCED team introduced this course. With a very competent and passionate professor Ms. Ivy Josiah, she really manage us (the participants) to take part and have our contribution in the course. At first I was hesitant to join, I was thinking that this will be particiated by women around asia and other countries, but when I realized that I need to widen my perspective in social issues happening around. When I joined the session Im glad that there were also men participants. Thus making this course more interesting. (A womens concern, that every man should learn too.) The activities provided were awesome. The break out rooms, small group discussion were also learningful, for we had given opportunity to learn with other participants (inter-county). The activity (Why orange the world?) Indeed was amazing. Thanks to the APCEIU Team, hope that this will continue in educating others.

I love the way the instructor of this course have lead the participants, the GCED team are good in helping to make every session went smooth, and it was exactly an interactive course. I felt a bit strict at first, but later it is useful to commit to take part in every session. The diversity of the participants and to hear different aspects/real experiences even make the course more interesting. I also love the online workshop night. I hope this course will continue to benefiting others. Thank you so much :)

Mark Ritchie Celcius Cuento Juachon

This program had many strengths. The content was simplified and easy to understand so learners with or without background on the topic did not need to worry. The program design was balanced between theory, practice, and real-life narratives. The conduct of every session was smooth and interactive. The GCED team members were responsible and always there to help the facilitator and us the participants. Most especially, Ms. Ivy, our facilitator, is truly a competent resource speaker and an excellent motivator. The learning experience was not just like a typical webinar but a journey, in which it would make you reflect and act for women's causes and social justice. Again, my warmest felicitations and sincerest gratitude to everyone for making everything special in such a journey! Let us continue to be blessings for others. Thank you!

A million thanks to GCED and APCEIU for offering this course for free and for considering my application to join. It was really an honor and a meaningful one. I gained deeper knowledge about VAW through this course. I'm so glad because it is related to our school's GAD activities. Also grateful to know instructor like Madam Ivy Josiah whom I admired for being courageous and her sense of command. Thanks also to the very accomodating GCED staffs and active co-participants from different countries. I'm so proud I took this course. More power and a blessed day to all.

Very interactive course. The way it's designed, you can't just be an idle participant and they also link it with real life stories.
In all, it was just great teaching, great administration, great coursemates, and great job all around. Thanks for selecting me to join. Blessings