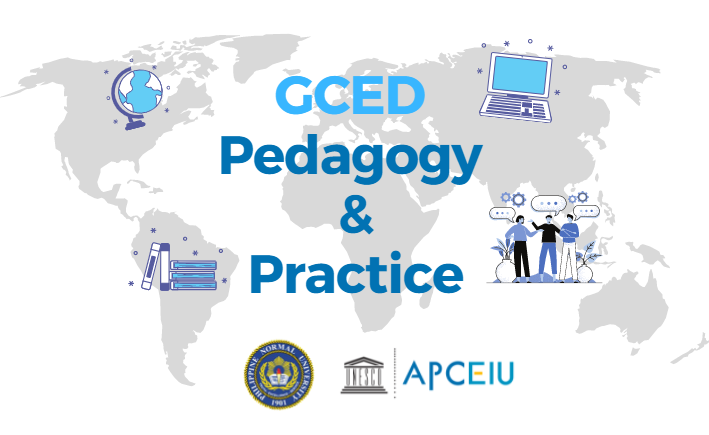 GCED by ThemesInstructor-led
GCED Pedagogy & Practice for ASEAN Educators
| | |
| --- | --- |
| Application | 08-22-2022 ~ 09-04-2022 |
| Learning | 09-09-2022 ~ 10-15-2022(5 [[study_weeks]]) |
| Course ID | 2022_80_CL002_6_0_2 |
Fixed Deadlines

Application & Selection Process

1:1 Interaction with the Instructor

Downloadable Certificate
Earn a certificate upon the completion

100% Free
About the Course
The course aims to guide primary and secondary teachers in integrating Global Citizenship Education (GCED) into the curriculum.
Specifically, it aims to provide teachers the knowledge, socio-emotional, and behavioral skills, through the practical application of GCED theories, principles, and concepts in the classroom. The course helps teachers infuse and contextualize GCED competencies into the subject they are teaching using indigenous knowledge, resources, learning systems, and local language. At the end of the course, teachers are expected to develop lesson exemplars with GCED integration.
Course Reviews
The GCED course is indeed what we need to help our learners be more responsive and aware of the world that they live in and soon will be part of as its leaders. I am very thankful to the team for making me part of this endeavor and letting me learn GCED and share these with my colleagues.

This GCED course is truly meaningful. It tackles issues that are given less focus in the classroom. I hope there will be more course like this in the coming months, years.
I am also dreaming that one day this approach will be fully integrated in our curriculum and given emphasis. GCED is a timely concept and we need this more than ever.

The GCED course provided a comprehensive perspective on fusing global issues with the existing local curriculum. The concepts are absolutely relevant to the K-to-12-curriculum as it will not only promote 21st-century skill but also emphasizes the outlook that learners must have for the lifelong process of learning. It is challenged me to become more aware of how learners should be the center of any instruction and that learning must be encompassing because GCED is not only bound to a four-walled classroom. GCED hones learners' belongingness to society and in turn gives back to it by means of understanding and respecting diversity and promoting peace. Looking forward to a series of training and discussions anchored with the same topic for the continued progress of ASEAN educators on GCED.

This course became an eye opener to me that we can integrate GCED in any lessons that will engage the students to learn their outside world. The Facilitators were really the experts of the course. They helped the students to finish the course. They explained every module very well. Thank you very much for this opportunity. I hope that you will have another course like this in the future.

A very challenging course that opens a learning opportunity for each participant. Though the course (GCED) was short still it was very informative and very helpful to teachers, especially on how to integrate GCED into the K12 curriculum of DepEd. It helps me to understand how to transform GCED into practice and achieve quality education among children, youth, and adults. Thank you APCIEU and to the people behind the success of this course.

The course (Global Citizenship Education) provided a wide range of teaching and learning opportunities in addressing the challenges of the present times on various sectors and in strengthening, unifying, and sustaining a one world, one hope, one promise mantra. The ways forward such as varied pedagogies in teaching GCED incorporating it in teaching specialization, like in Science is a vehicle in realizing the principles of GCED. I am very much grateful to PNU and APCIEU and to the people behind this educational program in a way I can better serve my community.

The course with its facilitators and experts was very interesting. The facilitators were very engaging and are very enthusiastic s they do the lectures of synchronous sessions. I learned alot from this course. And these learning will be shared in our school community and GCED will definitely be imtegrated in all of my classes. This is an eye-opening experience for me as a teacher and a life-long learner. Thank you so much to our facilitators from PNU and APCIEU.

The course was very interesting and very extensive. It gave me a lot of insights about designing and implementing GCED-related lessons. The experts in each module were really excellent in scaffolding the different principles, strategies, and techniques involved. I was really glad for the opportunity of being chosen as one of the presenters of the exemplar lesson. Thank you to all the mentors and APCIEU.

JUNNOEL V. OJENAR, Philippines

This short course has imparted me lots of learning. The content on GCEd, its nature, how its been implemented in local level, with globbally competent speakershas empowered me as educatorIt taught me lots of learning. I have also been upgraded nd capacitatee myself in learning the global concerns that educators need to look into. I was challenge to become persistent in every task being posted on the classroom. It helps me understand that GCEd is a critical vriable that students of this gen need to learn and practice. I have also gained some values as the course go on: persistence, time management, social skills (including communication skills),focus goal and self discipline as far as learning is concern.

This short course on GCED amplified the pedagogical and content knowledge of the participants to a leveled connection between global and local issues that need to be addressed contemporarily. It empowers learners of all ages to assume active roles, both locally and globally, in building more peaceful, tolerant, inclusive, and secure societies. I look forward to bringing the conceptualization of the GCED key principles to my day-to-day practice as defined by the job description.